Bunches Of Beard Care Brands Born In Nashville
by TJ Anderson
Nashville isn't in danger of losing the Music City moniker any time soon, but if a reboot was on the horizon, I'd put Artisanal Beard Care Product City on the short list.
Over the past handful of years, local beard-care companies have popped up like violet wildflowers on a spring Nashville lawn. And it makes sense — walk around a Nashville neighborhood on any given evening, and you'll see as much facial hair and flannel as you see full parking lots.
Even if meticulous beard care isn't your thing, it's an interesting cottage industry to see growing here in Nashville. And I'll admit, as a bearded Nashvillian, soft facial hair that smells good isn't the worst thing to have.
Here's a quick look at some of the Nashville beard-care brands working to make our hirsute residents more well-groomed:
What they offer: Beard shampoo and conditioner, beard oil and shave cream, all-natural, made with ingredients like coconut oil and green tea, with scents like "warm + woodsy" (amber and sandalwood) and "rugged + relaxing" (sea spice and salt water).
What they offer: "Premium quality grooming products in small batches with organic and all-natural ingredients" — specifically, beard and shave oil in appropriately manly scents like "Flannel" and "Hatchet."
What they offer: Hand-blended batches of hair and beard balm and hair and beard oil, aged in charred oak barrels for at least six weeks, like a rugged whisker-whiskey. Options range from scents of sandalwood and bourbon ("Stella") to wild blackberries and Pinot Noir ("Luna").
What they offer: All things shaving/non-shaving hair care, from a "Strop" made for honing and cleaning blades to shave cream and aftershave. Their beard oil is super simple and clean, made with avocado and grapeseed oil and scented with orange and pine oils.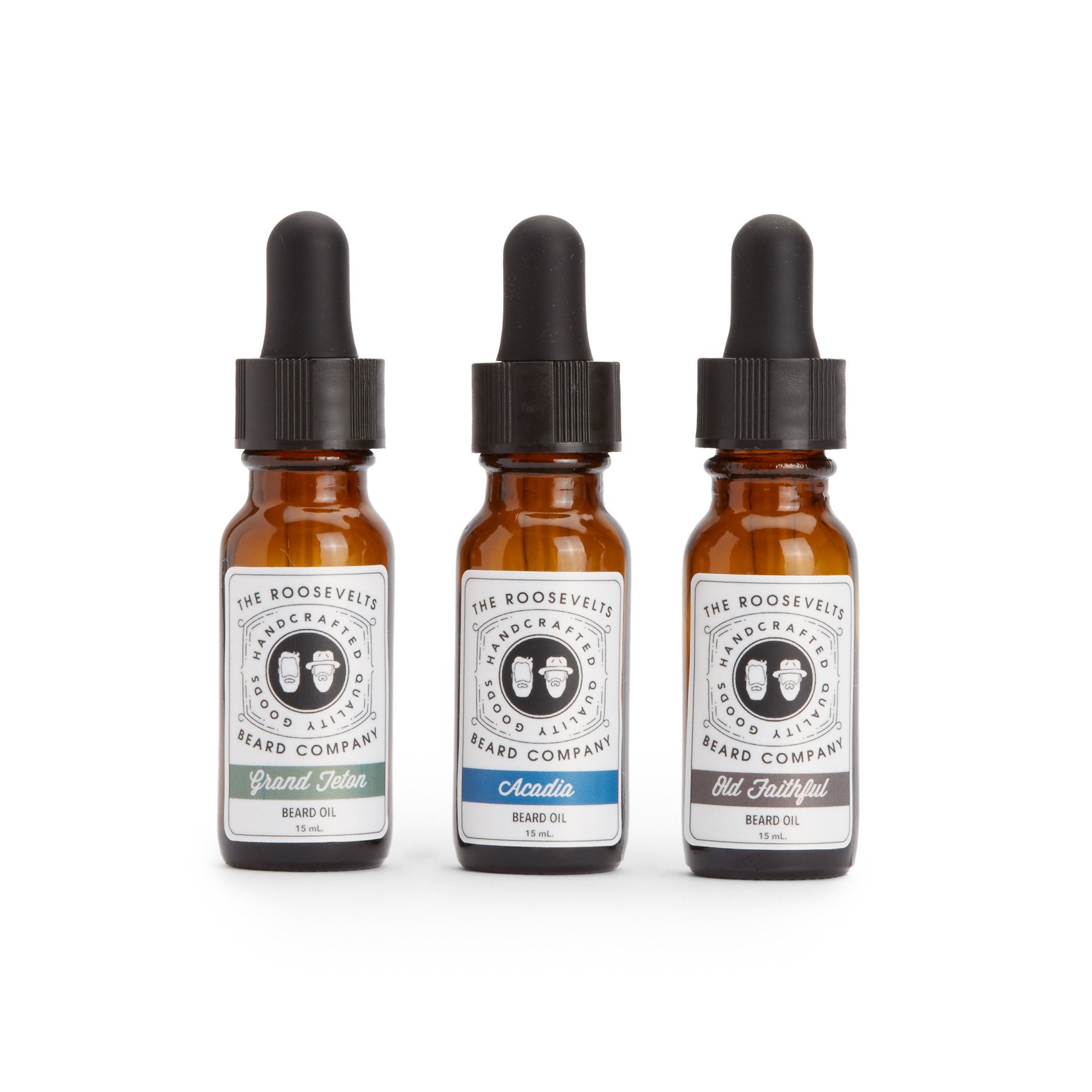 What they offer: There had to be a brand built by a band — members of local rock outfit The Roosevelts developed these signature beard-care products, all handmade and named after/scented with the inspiration of a national park.
What they offer: If the name didn't hint, this Nashville mens' care brand shoots for intensity, "to destroy shower boredom as your nostrils inhale a tidal rush of Eucalyptus, Sandalwood and all-natural stuff you've never heard of." Among their beard-care products: beard oil/conditioner, beard oil treatment and beard, hair and body wash, with names like "Mint Slap" and "Extreme Yawp."
What they offer: Products "inspired by both urban and country living" that eco-minded bearded folk might want to explore. Says the makers, "We source our ingredients from organic and sustainable suppliers so that we don't make a dent on the environment, and in return, we do our part to give back as well." Their shop includes beard balm, beard shampoo, beard oil and more.
What they offer: The two "absurdly intense" Nashville entrepreneurs who created this brand were shooting for "excessively superior beard oil." Their Elite version is even caffeinated.
What they offer: Launched out of Franklin and Nashville, Lucky Scruff was built with an aim of "helping our bearded brethren boldly go where no bearded man had gone before." They head there with beard oils, waxes and balms for styling, conditioning and washing, based on scents like tea tree and cedar. One unusual offering: If you want something super simple, they have unscented options too.
Hope this helps you find some Nashville beard-care products that do what you're looking for. If you're looking for a home in Nashville, though, that's more my expertise. Call or email TJ Anderson Homes, and tell me about your househunting plans.
Author:
TJ Anderson
Phone:
615-364-1530
Dated:
May 15th 2017
Views:
222
About TJ: TJ Anderson is a Nashville Realtor with Benchmark Realty who's helped countless clients both buy a h...